Slowly back away...
This article contains content not suitable for younger viewers. Viewer discretion is advised.
Yao Ming Face
Link to the template page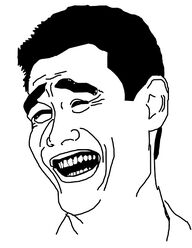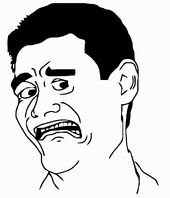 Aliases/nicknames
Bitch Please
Fuck That
Names in other languages
Associates
Miscellaneous
Yao Ming Face (More commonly known as Bitch, please or Fuck that) is a Rage Comics character used to imply carelessness or giving up.
The meme originated at a press conference in 2009 when professional basketball player Yao Ming made the face.
Alternate Counterparts
Edit
A scared version of the face was also made called Fuck no! which is used to imply fear.
there also is another counterpart of it that has his lips tucked in saying "PFFT", as he was prepairing to laugh. this is also another counterpart that is featured on the internet as well.