X all the Y
X all the things
Link to the template page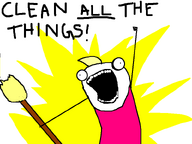 Aliases/nicknames
Clean all the things!
Names in other languages
Associates
Miscellaneous
"X All The Y!", sometimes known as "X All The Things!", is a snowclone and exploitable cartoon used to make a hyperbolic statement about performing an action. The person in the original comic panel is often manipulated to appear as a different character.
The blog Hyperbole and a Half published a comic titled "This is Why I'll Never be an Adult" by artist Allie Brosh on June 17th, 2010. The comic describes the author's frustration with her inability to maintain a consistent enthusiasm for her daily responsibilities.
Ad blocker interference detected!
Wikia is a free-to-use site that makes money from advertising. We have a modified experience for viewers using ad blockers

Wikia is not accessible if you've made further modifications. Remove the custom ad blocker rule(s) and the page will load as expected.