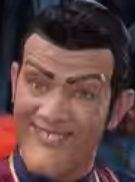 We Are Number One is a song from the LazyTown episode "Robbie's Dream Team", in which the show's lead antagonist, Robbie Rotten, recruits three clones of himself to defeat the superhero, Sportacus. Robbie and his clones' plans to defeat Sportacus are foiled by the show's protagonist Stephanie and, oddly, supporting antagonist Stingy.
The episode first aired on October 3rd, 2014, being the 107th episode. It was not until September 13th, 2016 that YouTuber SiIvagunner uploaded remixes of the song, one being "We are Number One – LazyTown: The Video Game". This eventually led to uncountable numbers of remixes. Some of the most popular non-ironic remixes are The Living Tombstone's remix and a MIDI-ish piano version. The Fine Bros have done a cringey reaction video to some of the best WANO "word replacement" remixes if you're interested.
Stefán Karl Stefánsson, who plays Robbie, was diagnosed with pancreatic cancer in 2016. He began a GoFundMe page so others could donate to help his family and his recovery. The meme surge helped the GoFundMe page pass $110,000. Stay number one, Stefan, we all love you.
In December 2016, the song was performed live by Stefán and the other Robbies in a tribute to the many remixers. The meme's popularity reached a new high, leading to KnowYourMeme users to name it Meme of the Year. For comparison, 2015's Meme of the Year was John Cena, so it's pretty clear that memes have improved a bit since then.
Ad blocker interference detected!
Wikia is a free-to-use site that makes money from advertising. We have a modified experience for viewers using ad blockers

Wikia is not accessible if you've made further modifications. Remove the custom ad blocker rule(s) and the page will load as expected.