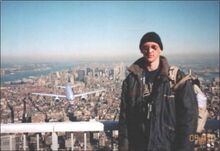 Tourist Guy is an internet meme featuring a man (collectively known as 'tourist guy') standing ontop of one of the two Twin Towers. Behind him is one of the planes that hits that tower. This meme has been proven fake numerous times.
Ad blocker interference detected!
Wikia is a free-to-use site that makes money from advertising. We have a modified experience for viewers using ad blockers

Wikia is not accessible if you've made further modifications. Remove the custom ad blocker rule(s) and the page will load as expected.