This meme is originally a spongebob episode where he steps on the beach while singing, and this meme is from around 2012 - 2013. This meme had many remixes where its different colours, its loud, its weird, etc.
This meme was very popular back in the days of 2012, but it isn't so popular these days. This meme was so popular back in the day that there where lots of scratch projects of them.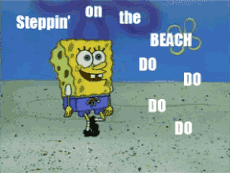 Ad blocker interference detected!
Wikia is a free-to-use site that makes money from advertising. We have a modified experience for viewers using ad blockers

Wikia is not accessible if you've made further modifications. Remove the custom ad blocker rule(s) and the page will load as expected.