Don't Let Your Kids Watch It!
This article contains content not suitable for younger viewers. Viewer discretion is advised.
Shrek is Love, Shrek is Life
is a very popular internet meme based off of Shrek.
The meme is about a series of green colored text that usually contain sexual and explicit stories of children who pray to Shrek, encounter him, who then proceeds to engage in anal sex with them.
> I was only nine years old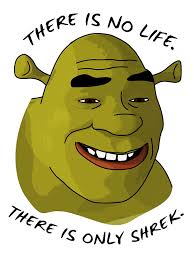 > I loved Shrek so much, I owned all the movies and merchandise
> I pray to Shrek every night, thanking him for the life I have been given
> "Shrek is love", I say, "Shrek is life"
> My dad hears me and calls me a faggot
> He is obviously jealous of my devotion to Shrek
> I called him a cunt
> He slaps me and sends me to my room
> I am crying now, because my face hurts
> I go into my bed and it is very cold
> I feel a warmth moving towards me
> I fell something touch me
> It's Shrek
> I am so happy
> he whispers into my ear, "This is my swamp"
> He grabs me with his powerful ogre hands and puts me on my hands and knees
> I'm ready
> I spread my ass cheeks for Shrek
> He penetrates my butthole
> It hurts so much, but I do it for Shrek
> I can feel my anus tearing as my eyes start to water
> I push against his force
> I want to please Shrek
> He roars a mighty roar as he fills my butt with his love
> My dad walks in
> Shrek looks him deep in the eyes and says, "It's all ogre now"
> Shrek leaves through my window
> Shrek is love i say, Shrek is life