SATNA KLAUSE AKA "the Santa Troll" is a christmas-themed meme which originated off 4chan's /b/ board on December 10th, 2010. It could be considered a variant of trollface, however, with the amount of original content made in a short amount of time, it seems to be deserving of a separate article.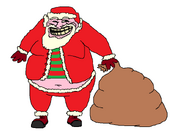 Originally the meme was a simple comic showing santa with a trollface, breaking into that night there was around 25 variations made.
Meme Generator Images
Edit
Ad blocker interference detected!
Wikia is a free-to-use site that makes money from advertising. We have a modified experience for viewers using ad blockers

Wikia is not accessible if you've made further modifications. Remove the custom ad blocker rule(s) and the page will load as expected.