General Info
Edit
Sanic.EXE
is a younger cousin of
Sanic
. He can do everything sanic can do with only half sweg but 2x creepiness. His eyes are always bleeding. He is very creepy. We are not sure if he has any friends...
"i um gawd"
"lulz get on meh lvl scrub"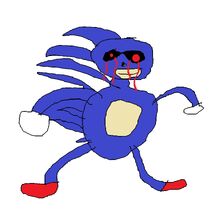 Ad blocker interference detected!
Wikia is a free-to-use site that makes money from advertising. We have a modified experience for viewers using ad blockers

Wikia is not accessible if you've made further modifications. Remove the custom ad blocker rule(s) and the page will load as expected.