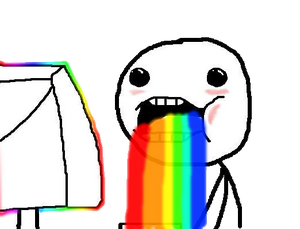 Puking Rainbows
is a popular theme in online comics and illustrations characterized by the portrayal of rainbow-colored vomit, or in its original form, an anthropomorphized rainbow throwing up another stream of rainbow. Despite the unsavory subject matter, images of puking rainbows have been seen across various blogs and imageboard sites.
On August 17th, 2006, RoG domain-registered the single topic blog RainbowPuke.com, which was turned into a website for curating "puking rainbow" artworks. The site became unavailable for a brief time until June 2009, when the revamped version of the site was launched.
Ad blocker interference detected!
Wikia is a free-to-use site that makes money from advertising. We have a modified experience for viewers using ad blockers

Wikia is not accessible if you've made further modifications. Remove the custom ad blocker rule(s) and the page will load as expected.