PFFFTTTCHH
(also known as
Laughing Guy
) is a face halfway commonly used to describe predicted laughing. The design is similar to [[Rage Guy|Rage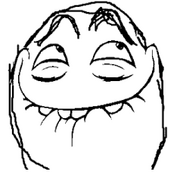 Guy]], but it shows upper-half eyes and a mouth performing an upcoming burst of laughter with teeth showing. The red text replaces FFFFFFFFFFFFFUUUUUUUUUUUUUU with PFFFTTTCHH text and so on.
Ad blocker interference detected!
Wikia is a free-to-use site that makes money from advertising. We have a modified experience for viewers using ad blockers

Wikia is not accessible if you've made further modifications. Remove the custom ad blocker rule(s) and the page will load as expected.