Oro is one of the main characters in the German film Dinosaur Adventure, and the star of a popular meme, "Yee".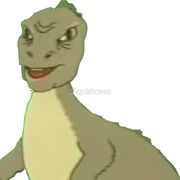 Original appearance
Edit
He first appeared in the video Yee where a dinosaur named Peek sings a short jingle, then Oro interrupts by saying his signature catchphrase.
Information
Edit
The film Dinosaur Adventure was made in 2001 by Dingo Pictures, which is a German company which makes knock-off movies.