Oh Sweet Jesus (also known as Sweet Jesus Have Mercy) is a rage comic face used to imply relief. It is very similar to Me Gusta. It has thin eyebrows, squinty eyes, an open frown mouth with shown teeth and black in the center, and some wrinkles. Under the eyes, there are eye bags.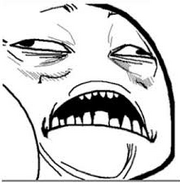 Ad blocker interference detected!
Wikia is a free-to-use site that makes money from advertising. We have a modified experience for viewers using ad blockers

Wikia is not accessible if you've made further modifications. Remove the custom ad blocker rule(s) and the page will load as expected.