El Ora Morro es una meme mexicana que surgió en una thread de comentarios en Facebook en Octubre 2011. Se conoce poco acerca del origen del Ora Morro; Se sabe que reside en la ciudad de Xalapa, Veracruz. Ora Morro suele frecuentar el Distrito Federal y Mérida, Yucatán.
Los gustos de Ora Morro son variados: relojes, celulares, tacos de castacán con queso.
Nunca sabes cuando te puedes encontrar al Ora Morro.
Fundaciones
Edit
Se sabe que el Ora Morro es lider de un movimiento, "Por una mejor ciudad, Xalapa"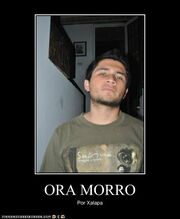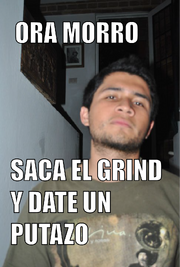 Ad blocker interference detected!
Wikia is a free-to-use site that makes money from advertising. We have a modified experience for viewers using ad blockers

Wikia is not accessible if you've made further modifications. Remove the custom ad blocker rule(s) and the page will load as expected.