Slowly back away...
This article contains content not suitable for younger viewers. Viewer discretion is advised.
OMG Face
Oh Crap Face
Link to the template page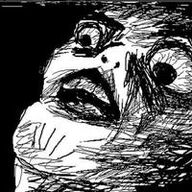 Aliases/nicknames
Oh Crap Face/Raisins Face
Names in other languages
Associates
Miscellaneous
OMG Rage Face (aka Oh Crap or Raisins Face) refers to an exploitable rage comic where the final panel is a close up of a man's face expressing astonishment, realization, surprise, or sheer rage, along with red or white text next to it to sum up the character's thoughts. Rage faces have originated from 4chan, like many memes. Sometimes this face has a red hoodie and is also called "Inglip". In some cases,this face has an angrier version. It has red eyes and his teeth can be seen.
Ad blocker interference detected!
Wikia is a free-to-use site that makes money from advertising. We have a modified experience for viewers using ad blockers

Wikia is not accessible if you've made further modifications. Remove the custom ad blocker rule(s) and the page will load as expected.