mm2wood (also known as mm2wood.mid or Wood Man) is a poorly made MIDI song created in 1996 based on Wood Man's stage theme from Mega Man 2.
The meme was popularized by YouTuber SiIvaGunner where mm2wood was featured in multiple videos. In these, Wood Man was born from a computer virus from a Mighty No. 9 rip where he remained in the shadows until 3 November 2016 where he began to appear more frequently. his catchphrase is "nice".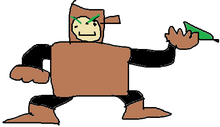 Ad blocker interference detected!
Wikia is a free-to-use site that makes money from advertising. We have a modified experience for viewers using ad blockers

Wikia is not accessible if you've made further modifications. Remove the custom ad blocker rule(s) and the page will load as expected.