About him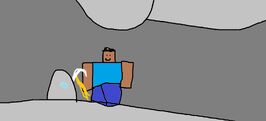 MineCraft Awesome Parodys is a YouTube with 102,000 Subscribers as of 17/5/28. He started his channel on April fool's day 2016 and has made many Minecraft Parodies. He has a Patreon and a fan-made Discord server.
Why is he a meme?
He has become a meme because his parodies are terrible, ironic and loud. MrMrMangoHead has featured him many times in "We are number one" videos, increasing his popularity. His channel is a genre of bait channels, such as "Super Minecraft Kid" so not many people know if he's serious or not.
His parodies
He has over 10 Minecraft parodies, all of them being ironic and loud. Here is a list of them in order of release:
Mine Oddity
We'll mine again
I banned you
What about friends
Just give me my diamonds
Stop cheating
Diamonds
Welcome to my mine
All the other players
Mine Diamonds
Librarian
Diamond mine
His most popular parody is "Mine Diamonds" with 2,420,000 views as of 5/28/17
Ad blocker interference detected!
Wikia is a free-to-use site that makes money from advertising. We have a modified experience for viewers using ad blockers

Wikia is not accessible if you've made further modifications. Remove the custom ad blocker rule(s) and the page will load as expected.