The Kanye West Interruption meme was spawned from Bold textKanye West's interruption at the MTV Video Awards. Kanye interrupted winner Taylor Swift's acceptance speech by taking her microphone away from her and saying Beyonce has "one of the best videos of all time."
Kanye's interruption has been turned into image macros and inserted into videos.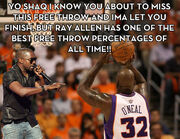 Ad blocker interference detected!
Wikia is a free-to-use site that makes money from advertising. We have a modified experience for viewers using ad blockers

Wikia is not accessible if you've made further modifications. Remove the custom ad blocker rule(s) and the page will load as expected.