Someone had better clean this up!
This article does not meet Wikia's quality standards and will require a cleanup. Specifically, the main reason for the cleanup is N/A.You can help Teh Meme Wiki by editing it.
I am purple! is sketch where Springtrap says I'am purple!.
On March 20th, 2015, Garret Wiliamson (GaArtStudio) submitted A video called How to Make Five Nights at Freddy's 3 Not Scary.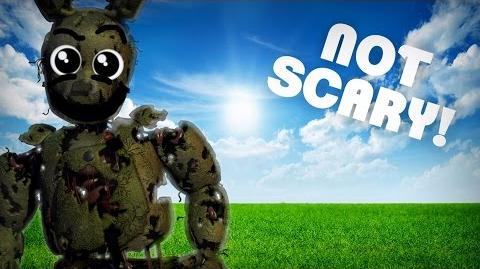 If you stop in the
1:36
you see this:
Garret : All you have succeeded at totally disappoint me spacially you old bunny dude.
Springtrap : Homes in exile purple?
Garret : (looking)
Phantom Foxy: You are yellow dude.
Phantom Chica : Pizza!
Garret : OK, shut up with that stupid jokes.
Springtrap : I can whatever color I wanna be. And today... I'am purple!
Phantom Puppet : Dude, you are yellow
Springtrap : I'am purple!
Phantom Puppet : (rattle)
Garret : (looking again)
Examples
Edit
17. 6. 2015 Quack Addict submitted video Springtrap: "I AM PURPLE!" Sparta Remix (shown bellow left), and 29. 3. 2015 Raven Kitten submitted video I AM PURPLE! (animation) (shown bellow right).
Ad blocker interference detected!
Wikia is a free-to-use site that makes money from advertising. We have a modified experience for viewers using ad blockers

Wikia is not accessible if you've made further modifications. Remove the custom ad blocker rule(s) and the page will load as expected.