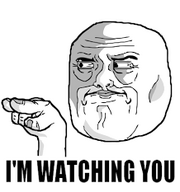 I'm Watching You
is a muscular rage comic face representing a large-size head with a bit of wrinkles, eyebrows, and small eyes. It also has a small nose in good drawing and glum lips. A hand is shown, turning out to have the fingers beside the middle finger pointing while the other fingers crouch down..
Ad blocker interference detected!
Wikia is a free-to-use site that makes money from advertising. We have a modified experience for viewers using ad blockers

Wikia is not accessible if you've made further modifications. Remove the custom ad blocker rule(s) and the page will load as expected.