[drvs Sass,moms,]
Herp Derp
Link to the template page
[[File: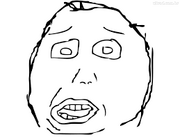 |192px]]
Aliases/nicknames
Harp Darp
Names in other languages
Associates
Miscellaneous
Herp Derp (sometimes called Harp Darp) is a character in rage comics. It is a face showing a character's stupidity, similar to Genius.
The face was first used in a comic called "Rage Comic FFUU" in which it is criticized for being poorly drawn.
When the face first appeared, It was shown with eyebrows that gives it a worried look. While the original version is still used rarely today, most versions show it without the eyebrows.
Ad blocker interference detected!
Wikia is a free-to-use site that makes money from advertising. We have a modified experience for viewers using ad blockers

Wikia is not accessible if you've made further modifications. Remove the custom ad blocker rule(s) and the page will load as expected.