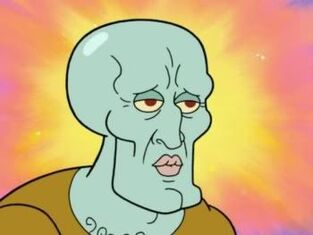 Handsome Squidward
or
Squidward Falling
is a meme originating from the Spongebob Squarepants episode
The Two Faces of Squidward.
Users commonly paste music over the falling sequence and loop it for varying amounts of time. The earliest known instance of this was in November of 2008 when SilverWingedBandit uploaded a loop of the sequence synced to the Mega Man 7 Intro Stage Theme. Many people have also made characters with the base of Handsome Squidward.
Handsome Squidward originated from the Spongebob Squarepants episode The Two Faces of Squidward which aired on November 23rd, 2007. In the scene Squidward blames Spongebob for making him too handsome after hitting in the face with a door. As the mob outside becomes unruly, Spongebob starts to freak out. Suddenly, a shoe that had fallen of the foot of a an unknown bystander who was given the ability to fly when he saw Handsome Squidward, breaks through the ceiling. Spongebob pushes Squidward out of its path sending him spiraling into a column.
Ad blocker interference detected!
Wikia is a free-to-use site that makes money from advertising. We have a modified experience for viewers using ad blockers

Wikia is not accessible if you've made further modifications. Remove the custom ad blocker rule(s) and the page will load as expected.