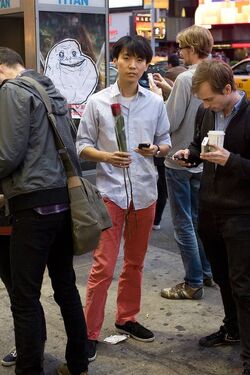 Beginning on March 22nd, 2011, 4chan and Reddit users started plotting an "involuntary" flash mob event by creating fake dating profiles on OKCupid and setting up a false rendezvous for single males at the Times Square, New York City at 7:30pm on May 13th, 2011. According to Urlesque, various flyers explaining the action plan were posted in the forums and blogs like The Mainboard, NYMag, Social Spew, Skim Online Forums and Dating Service Reporter.
After Math
Edit
What was supposed to be an involuntary flash mob turned out to be a involuntary DDoS attack against EarthCam's website. The large number of people attempting to access the stream put a heavy strain on the company's small server. Earthcam was down for most viewers from 7PM to around 7:40PM. The few with access to the stream had been watching from the beginning of the event. Screenshots of many men in suits at different points in time appeared on Tumblr and 4chan. Though few people arrived, and even fewer stayed, somebody marked the event with a Forever Alone poster on the side of a phone booth.
Ad blocker interference detected!
Wikia is a free-to-use site that makes money from advertising. We have a modified experience for viewers using ad blockers

Wikia is not accessible if you've made further modifications. Remove the custom ad blocker rule(s) and the page will load as expected.