Forever Alone
Talk

0
309pages on
this wiki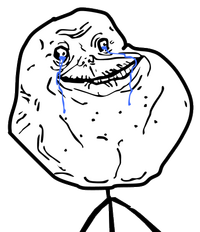 Forever Alone is a popular internet meme.
Forever Alone is a meme that is usually used when someone is not being responded to or nobody is paying attention to them. It means that they are alone and have nobody to talk to or be with.
Rage wars version
Edit
It the game rage wars:meme shooter forever alone looks different. His name has changed from "forever alone" to "forevalone" and his head is completely round instead of having a very big chin. He also has snot running down his nose. He also has a sad face instead of a small smile. He also has eyebrows but has no headlines on his forehead, unlike forever alone.
File:Rage wars forevalone screenshot 2014-09-38.jpg
Meme Generator Images
Other Images
Edit