Everything Went Better Than Expected is a rage comic face showing happiness or relief. The appearance is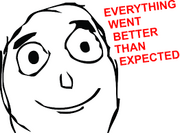 some eyes that are big circles with a dot in each middle, a big nose, and a smile sticked to the face. Beside the face, it says "Everything Went Better Than Expected". This meme is the reverse counterpart of
Rage Guy
.
This rage face could have been created in 2008. One of the first appearances of this face was on a eBaum World's Message Board, and this was in a rage comic about several automotive companies. Here is an image from
☀http://knowyourmeme.com/memes/everything-went-better-than-expected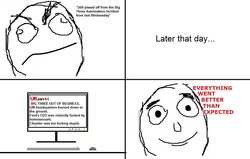 Ad blocker interference detected!
Wikia is a free-to-use site that makes money from advertising. We have a modified experience for viewers using ad blockers

Wikia is not accessible if you've made further modifications. Remove the custom ad blocker rule(s) and the page will load as expected.