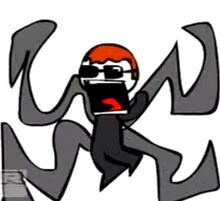 Dr. Octogonapus (often miss-spelled 'Dr. Octagonapus') is a character that first appeared on Dominic Fera's "THE LAZER COLLECTION" video on YouTube. This character is a spoof of Doc Ock from Spiderman. It is revealed he has a son named Randal Octogonapus which he accidentally kills in Lazer Collection 5..
Dr. Octogonapus (if you look closely) is really short, and appears to float.
Dr Octagonapus's first apperance was The Lazer Collection 2
Ad blocker interference detected!
Wikia is a free-to-use site that makes money from advertising. We have a modified experience for viewers using ad blockers

Wikia is not accessible if you've made further modifications. Remove the custom ad blocker rule(s) and the page will load as expected.