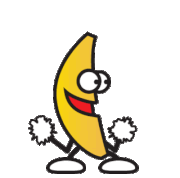 Dancing Banana is a yellow banana with green limbs or black limbs and a red mouth, that has been highly popularized in YouTube videos, Newgrounds and even appearing in an episode of Family Guy. He is found in the popular song Peanut Butter Jelly Time.
Ad blocker interference detected!
Wikia is a free-to-use site that makes money from advertising. We have a modified experience for viewers using ad blockers

Wikia is not accessible if you've made further modifications. Remove the custom ad blocker rule(s) and the page will load as expected.