Challenge Accepted is a Rage Comic stick figure crossing his arms and with a determined face. Challenge accepted also has a disagreeing counterpart called Challenge denied and a deciding counterpart called Challenge considered. He is part of the Rage Comics and appears when someone suggests a challenge. He is also featured on Rage Comics and Memegenerator as well. on Memegenerator, he appears on the website and even the app version on Memegenerator as well. Usually in Rage Comics, he would appear at the end of the comic saying, "Challenge Accepted" after someone or something agrees with him or her in the comic.
The four-pane series is believed to have originated on Bungie's Flood forums in a discussion thread titled "When your teacher tells you" circa early November 2010. Prior to the popularity of 4-pane iterations, "Challenge Accepted" became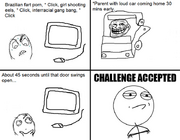 a popular trope in TV sitcom series
How I Met Your Mother
. In the series, the ladies man Barney Stinson (played by Neil Patrick Harris) often takes up seemingly impossible challenges that others bring up as a joke. The earliest instance of Barney uttering "challenge accepted" can be heard in the Season 4 of the series. Since then, he became very popular around the time. The earliest known comic of him first appeared around a website in a post, posted on a thread by body building forums member MK on November 10, 2010. and since then, he became very popular after his first meme was made. In the first meme, it showed in the first comic that determined
Rage Guy was
about to open an internet page about something and when
Trollface
 (which was rage guy's parent) tried to get out of the car, and while Rage guy's emotion was alike with
Questioning Guy
, then he determined to try to challenge his parent (Trollface) and at the end, he accepted the challenge and said, "Challenge Accepted" after the comic ended. There has been another comic that had challenge accepted in it around the same time as the first meme as well. By Today's standards, it is unknown if there still any comics made, but for one thing, there has been several comics found on the internet and possibly some new memes on Memegenerator as well.
Counterparts
Edit
There has been about four counterparts that have been found on the internet. Instead of having the original counterpart Challenge Accepted, There also has been three others like for example,
Challenge Considered
, a questioning or considering version that appears to decide. Unlike the original version, this meme appears to try to think if he is accepting the challenge or not. There also has been another Counterpart that is also found on the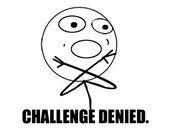 internet as well. There also has been another Challenge Accepted counterpart named "
Challenge Denied
" who doesn't want to try to challenge at all. But for one thing, he appears as an opposite version of the original version. instead of accepting a challenge like the original, there also has been another meme that hasn't been mentioned or often talked about that much named
Challenged Failed
. The Failed Counterpart seemed to have lost a battle or never won anything. This meme hasn't been often used as a counterpart, but for one thing, Challenge failed can sometimes be used in the meme or in Rage Comics as well. sometimes there also has been another meme that has yet to be found, but hasn't been mentioned much. There also has been a meme named "Challenged Approved" who doesn't appear that much in Rage Comics or on memes at all. Afterall, he is slightly a less popular meme than any of the other "Challenge - " counterparts as well. There also has been numerous other counterparts that could possibly be seen on the internet, and sometimes the same meme could possibly be created in a different style or a different way as well. Sometimes, the meme is also compaired to others who has the same emotion, like for example, Trollface,
F-Word Yeah Guy
, and even
Cereal Guy (Squint)
, as well. It is unknown if there is any counterparts made, but for one thing, since the original has been known very well, there may be some other counterparts on each websites yet to be discovered.
Unlike other Rage Comic memes, he appears to have his Arms crossed, and also appears to have a challenge unlike any of the Other Rage Comic characters. He is unique for his Challenging and Arm-crossing, but he is known to be the only Rage Comic Character that possibly crosses his arms.
On every Rage Comic made, Challenge Accepted has only appeared at endings of comic panels in the comic with the phrase saying, "Challenge Accepted".
There has been four different counterparts besides him that is named, Challenge Denied, Challenge Considered, Challenged Aprroved, and even Challenged Failed as well.
he is one of the Rage Comic Characters that appears as crudely-drawn stick figures.
his eyes and appearance appears to be very similar to F-Word Yeah Guy, but even though his arms are crossing rather than standing up acting studly and cool-like. his eyes also appear to be very similar to F-Word Yeah Guy as well.
Unlike other Rage Comic characters, he originated in two comics around the same date as November 10th, 2010, and appeared on a website called Body Building Forums, instead of tumblr or reddit like others. This is possibly the first and only meme that first appeared in two comics around the same date or on Body Building Forums.
the Creator of Challenge Accepted could possibly be a Body Building Forum user named MK.
It is possible that the other counterparts of Challenge Accepted, like Challenge Denied, Challenge Considered, Challenged Failed, or even Challenged Approved has been created by the same person named Mk. due to the fact that the style of his or her drawings have appeared in the same style as the original as well.
unlike other memes from Rage Comics, he appears as a perfectly drawn headed stick figure like Cereal Guy and also appears to have skinnier body parts than Cereal Guy.
In the picture, he appears to have Three fingers rather than four or five.
Like several Rage Comic characters, he appears to be commonly found at the end of every comic like Poker Face and Are You Kidding Me as well.
Ad blocker interference detected!
Wikia is a free-to-use site that makes money from advertising. We have a modified experience for viewers using ad blockers

Wikia is not accessible if you've made further modifications. Remove the custom ad blocker rule(s) and the page will load as expected.