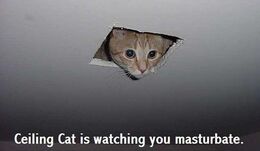 Ceiling Cat is a character spawned by the Lolcat meme. The original image was an image macro with a picture of a cat looking out of a hole in a ceiling, captioned "Ceiling Cat is watching you masturbate." There followed numerous image macros with the format "Ceiling Cat is watching you [verb ending in/rhyming with -ate]" with Ceiling Cat superimposed in the upper left hand corner of an image macro depicting the appropriate action. The character is also featured in a project to translate the Bible to lolspeak. "Ceiling Cat" and the corresponding "Basement Cat" have been said to represent God and Satan in the lolcat universe.
Ad blocker interference detected!
Wikia is a free-to-use site that makes money from advertising. We have a modified experience for viewers using ad blockers

Wikia is not accessible if you've made further modifications. Remove the custom ad blocker rule(s) and the page will load as expected.