"Brother, may I have some oats" is a meme that is fairly recent. It started its popularity in early 2017. The picture is from the 1850's by an unknown author. It is a picture of a pig eating oats while another pig is standing behind the pig feeding itself. It actually started on October 10th, 2016 when twitter user @markyannna posted the painting "A Pair of Pigs" with the comment bröther may i have some öats.' The person that posts this meme the most is Joe Capo. He created a series of videos about the pigs in the painting, starting with "Brother, I require your oats". He has even made a movie for the meme, called 'The Oats Movie'. *WARNING - B IG PETE IS VERY LOUD, YOU MAY NEED TO PUT YOUR VOLUME DOWN*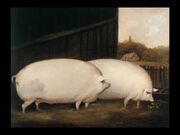 Ad blocker interference detected!
Wikia is a free-to-use site that makes money from advertising. We have a modified experience for viewers using ad blockers

Wikia is not accessible if you've made further modifications. Remove the custom ad blocker rule(s) and the page will load as expected.